NKISI GUESTHOUSE, KANG | BOTSWANA
NKISI GUESTHOUSE, KANG | BOTSWANA
CONTACT DETAILS
Contact Person:
Owners: Johan and Liza Marnewick
Phone:
Bookings and Reception: +267 6517 379/374

Fax:
+267 6517 389
Address:
Plot 89 on the Trans-Kalahari Highway on your way to Namibia, Kang Botswana
E-mail:
nkisiguesthouse25@gmail.com

Website:
www.nkisiguesthouse.com
Location:
Kang
Nkisi Guesthouse Offers Bed And Breakfast Accommodation with Famous Upperdeck Boskos Restaurant & Bar in Kang, Trans Kalahari, Botswana
Located in the small village of Kang, alongside the Trans Kalahari Highway lies Nkisi Guesthouse.
Our motto "A Sanctuary for the Soul"! Whether you are travelling with your pets or an Individual Business man or traveller - you will find our "Oasis" in the middle of the Trans-Kalahari desert relaxing and a unique experience. Our famous "Upperdeck Boskos Restaurant & Bar" offers specialities like our own Game-meat & Game-Seswa and a variety of other home-made meals.
Together with our Stone-build walls & luscious gardens, our spacious rooms are decorated with rustic furniture made mostly from recycled material & hand-made fittings.
We hope that Nkisi Guesthouse will become part of your own personal journey...
Nkisi Guesthouse are central and accessible to all major parks in our area, including central Kalahari Game Reserve, Kalahari-Transfrontier Park, Mabuasehube Game Reserve and on route to the majestic Okavango Delta – Moremi Wildlife Reserve and Chobe National Park.

2020 RACK RATES
ACCOMMODATION – ROOM ONLY
One Single Person @ P748.00 (R 1047.20)
Double Rooms @ P880.00 (R 1232.00) - (2x people, using 1 bed)
Doublerpooms @ P1023.00 (R 1432.20) - (2x people, using 2 beds)
Family Rooms @ P1221.00 (R 1709.40) - (3 or more Guests)
MEALS
Full Kalahari Breakfast @ P85.00
Both Continental & Full Breakfast @ P135.00
Children Under 6 years of age @ P40.00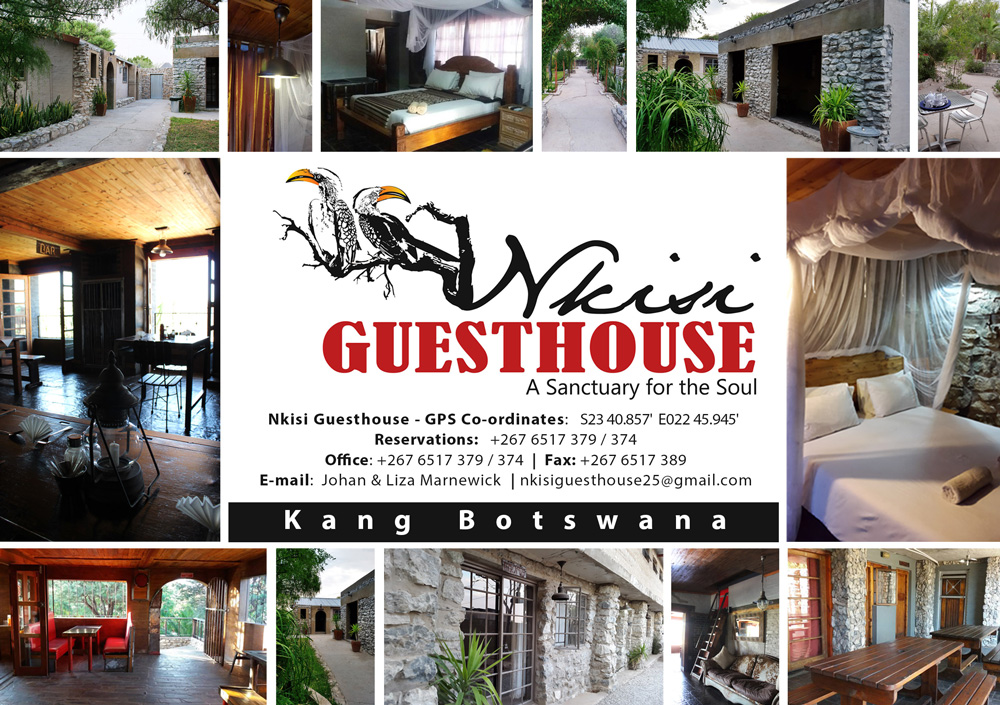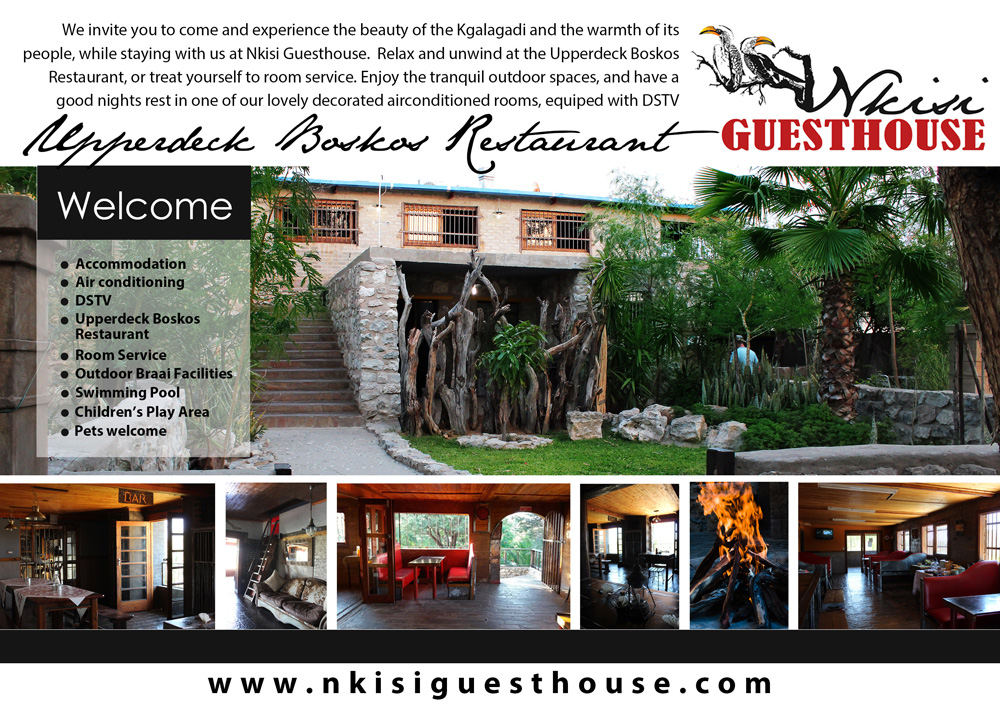 Follow us on Facebook
TripAdvisor
NKISI GUESTHOUSE, KANG | BOTSWANA
CONTACT DETAILS
Contact Person:
Owners: Johan and Liza Marnewick
Phone:
Bookings and Reception: +267 6517 379/374

Fax:
+267 6517 389
Address:
Plot 89 on the Trans-Kalahari Highway on your way to Namibia, Kang Botswana
E-mail:
nkisiguesthouse25@gmail.com

Website:
www.nkisiguesthouse.com
Location:
Kang